Surreal Machines has announced the release of a versatile tool for reshaping the dynamics of drums, loops, and much more.
The Impact multi-band transient shaper is designed to help with the more nitty-gritty, detail-oriented aims of transient shaping.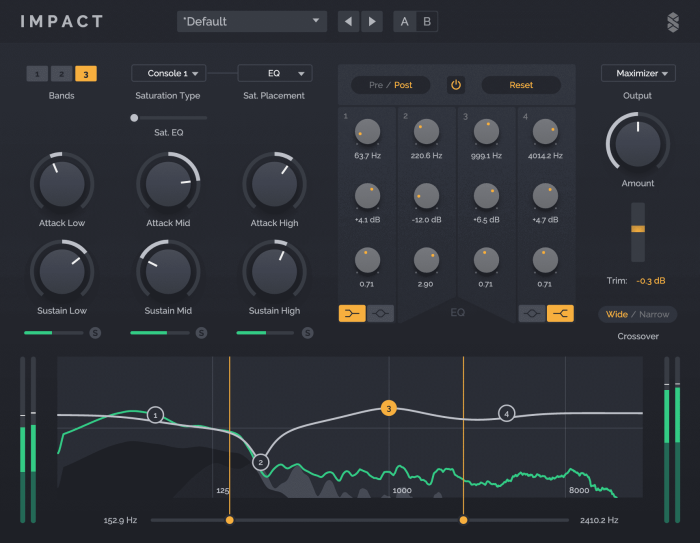 The multi-channel processor is switchable between one, two or three bands of transient modification — this means that different frequency bands can be adjusted independently, so that if you wanted to emphasize the attack of some airy hi-hats while, in the same sample, dulling the attack of a low-rumbling kick drum, you could do simply by adjusting the Attack and Sustain controls for each frequency band.

As part of its dynamic processing chain, Impact also includes four switchable styles of analog-modelled saturation, along with a final processing section that includes a clipper, limiter and a maximizer designed specifically to work with transient materials. This ensures that you are not only able to shape your transients exactly how you want, but you can also add some additional character to your sounds in the process.
Impact for Windows and Mac (VST/VST3/AU) costs 49 EUR.
Also available is Crack, a free transient shaper that is designed to be a workhorse.

It's great on just one drum or for quickly adjusting a loop and is cheap on your CPU so you can load it up across all your tracks. Its other advantage is that it can be blended with the dry signal using the Dry/Wet knob, so you can dial in the amount of the effect.

Like Impact, Crack features a custom limiter for peak reduction, soft analog-modeled clipping, and a maximizer specially tuned for use with transient materials.
Crack is a free download to registered Surreal Machines users (registration is free).
More information: Surreal Machines