WS Audio Limited has announced the European release of Trueno, a 3 oscillator analog synthesizer with a footprint smaller than a credit card.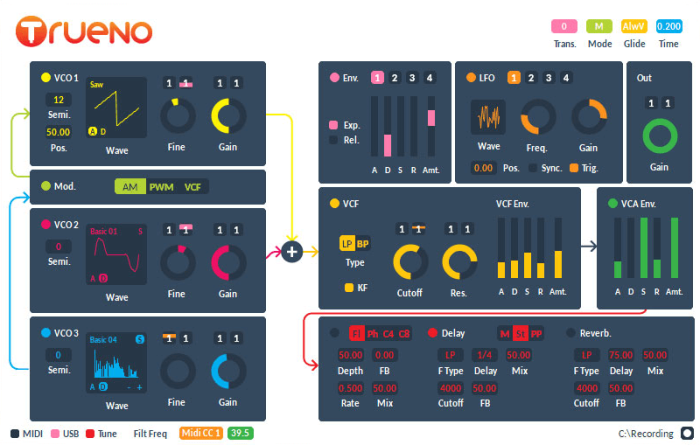 Trueno (from the Spanish for thunder) is a 3 oscillator analogue synthesiser in a USB stick. With the same oscillator circuits found in modular monstrosities and its wild, aggressive filter; Trueno does not compromise on sound quality.

Powerful features such as a built in 24 bit ADC, instant preset recall and automation control allow it to integrate easily into your music production process or performance. By swapping the front panel for full PC/Mac control from a VST/AU plugin or standalone application, we can offer Trueno at a price that can't be touched by anything with comparable features.

Now you can add the raw, powerful analogue sounds you've been craving for the same price as a plugin.
Trueno features
3 VCOs — Great oscillators are essential in any analogue synthesiser worth its salt. Trueno has three highly stable digitally controlled VCOs with automatic tuning. Recreate all your favourite sounds and make electrifying new ones with saw, pulse, triangle and noise (osc 3 only) waveforms, as well as a powerful digital mode.
AM, PWM & Filter FM — A wealth of modulation options, unheard of in any analogue synthesiser at this price point. Oscillator AM, PWM as well as filter FM. You can even use digital wavetables as a modulation source.
Additive Mode — Edit or create new digital wavetables with the built-in additive editor.
256 Waveforms — Take your analogue sounds to new levels with 256 included digital wavetables; ranging from Steinways to TB303s.
LP/BP VCF — This is something special. The aggressive, screaming resonance can cut through any mix.
24 Bit ADC — The fully integrated 44.1 KHz 24 bit analogue to digital converter captures the synthesiser's output with perfect clarity. No more noisy, tangled cables.
Digital Modulation and FX — Create complex and evolving sounds with 4 LFOs and 4 Envelope generators. Assign them to parameters quickly and easily by simply dragging and dropping. It's way better than patch cables. Crystal clear digital effects add the final sparkle to your sounds. Chorus, phasor, flanger, delay and reverb effects.
VST/AU/Standalone — Trueno fits seamlessly into your existing setup with: Instant preset recall, full automation control, low-latency and cross-platform VST2/VST3/AU Plug-in or standalone control. All controlled by a beautiful user interface, so simple to use, you'll never want to use presets again.
The world's smallest analogue synthesiser — An aerospace grade aluminium case, precision machined with an exceptional matt finish. Trueno is so tiny you can now fit a complete analogue synthesiser in your wallet.
Trueno is available from Amazon in Europa, priced at 159.99 EUR/£139.99 GBP.
More information: Trueno