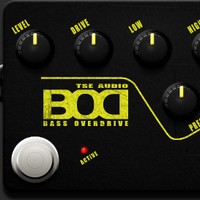 TSE Audio has released version 2.0 of the B.O.D. bass overdrive effect plugin for Windows.
A nice little stompbox emulation for the bass guitar. It's modeled against a popular little box and this will definately find a place in your mix with no big efforts.

This is the second generation of this plugin, featuring new GUI and a new very detailed op-amp model giving it less artificial sound.
B.O.D. v2.0 features
Input: Control the incoming (guitar) signal. Value of 1.0 = +0dB and 2.0 = +6dB.
Level, Drive, Low, High, Presence, Blend.
Quality switch: 'LO' and 'HI' setting. HI setting removes additional aliasing.
The B.O.D. plugin is available as freeware for Windows (VST).