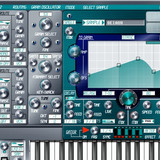 TubeOhm has released PURE D16/24 Grain, a virtual synthesizer instrument plug-in for Windows.
If you want analouge sounds you are wrong here. Use Bruno or Pure-Pten. But is you want new fresh experimental sounds for movie background, industrial music, sound effects YOU ARE RIGHT HERE !!

GRAIN is an experimental GRAIN synth with komplete new sounds. GRAIN works with the GRAIN SYNTHESIS. You can load you own Samples into the synth, drive through the sample, modulate the grain or stop the GRAIN on a position in the sample. After the GRAIN oscillator you can use a ,normal' VCA, VCF, CHORUS, DELAY, REVERB and a GATER function to design the sound.
PURE D16/24 Grain features
One Grain Oscillator – static/dynamic mode.
Three LFO, mono, poly, host sync, pwm, phase.
Using your own samples.
Two different samples generate one grain.
Gater function.
Multi-mode filters.
Multi-stage envelope for GRAIN manipulation.
VCA / VCF ADSR.
Effects unit with delay, chorus, reverb, arp.
Soft distortion.
MIDI Learn.
PURE D16/24 Grain is available to purchase as a VST instrument plug-in for Windows for 59 EUR.
More information: TubeOhm