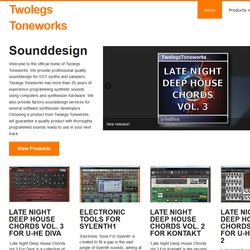 Danish sound designer and musician Torben Hansen has launched the official website of Twolegs Toneworks, offering its products at a 50% discount for a limited time.
In order to celebrate this event there's a 50% off discount on all products until the 15th of July.

Twolegs Toneworks provide professional quality sounddesign for VSTi synths and samplers. Twolegs Toneworks has more than 20 years of experience programming synthetic sounds using computers and synthesizer hardware. We also provide factory sounddesign services for several software synthesizer developers. Choosing a product from Twolegs Toneworks will guarantee a quality product with thoroughly programmed sounds ready to use in your next track.

Products from Twolegs Toneworks has previously been available with Xenos Soundworks and are also available on all major distributions sites, e.g. Producerloops, SoundsToSample, Loopbased, Samplerbanks aso.
More information: Twolegs Toneworks