u-he has announced availability of its first hardware product CVilization, a compact Eurorack utility which packs a lot of functionality into a small form thanks to a rather clever user interface.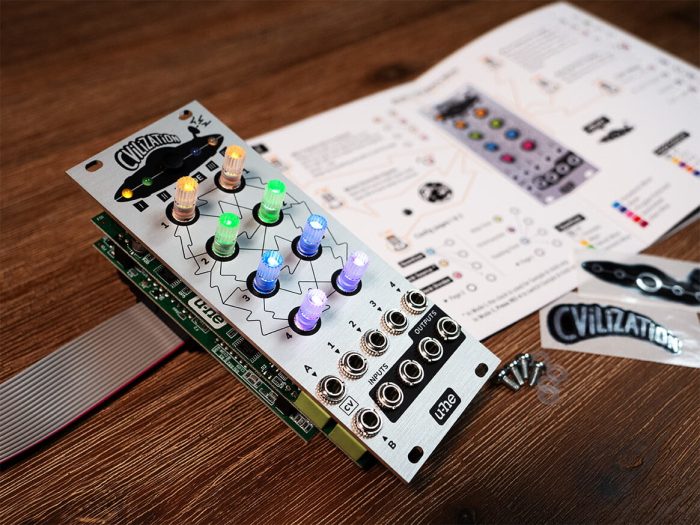 CVilization is useful for mixing, routing and sequencing CV or audio signals. Processing options including quantization, sample & hold and glide, user presets, the performance tools and nifty CV control aim to place the module at the very heart of any modular setup.
A compact Eurorack module featuring 4 operating modes that span a wide range of applications. While CVilization is perhaps not the most intuitive module in the world, it provides easy-to-learn solutions for many complex tasks.

It can turn a small modular setup into an animated quadraphonic system. It can be your go-to quantizer or your preset-driven submixer. It can expand your step sequencer with extra tracks, randomisation and other performance features. CVilization has changed the way we approach modular composition.
CVilization features
Format: 10HP Eurorack module, skiff-friendly.
Power requirements: +12V (95 mA), -12V (24 mA), +5V (130 mA).
2 CV inputs: 12 Bit, 48kHz, +/- 10V.
4 high-res inputs, 4 high-res outputs: Low Latency, DC-coupled, 24-bit 96kHz, +/- 10V.
Mix: 4 x 4 matrix mixer with optional matrix rotation.
Route: 4 x 4 sequential switch with 8 steps per output.
Mucord: Quad 'mucorder' 4 tracks, 16 steps, realtime mutation.
Pan: Quadraphonic panner with automatic and CV control.
Optional quantization, Sample & Hold, glide, CV control.
Per mode: 7 user presets plus initialization preset.
Up to 128 additional presets via Select Bus.
8 global user-defined scales (voltage quantization).
CVilization is available through SchneidersLaden now, priced 340.20 EUR incl. VAT plus shipping. It will also be available in selected stores in the next few weeks.
More information: u-he