u-he has announced the release of Hive 2.0, a major update to the virtual software synthesizer that is sleek, streamlined, and supercharged.
Version 2.0 includes a new interface with improved readability and contrast and a new Scope module, new modulators and an updated Modulation Matrix, 350+ new presets and more.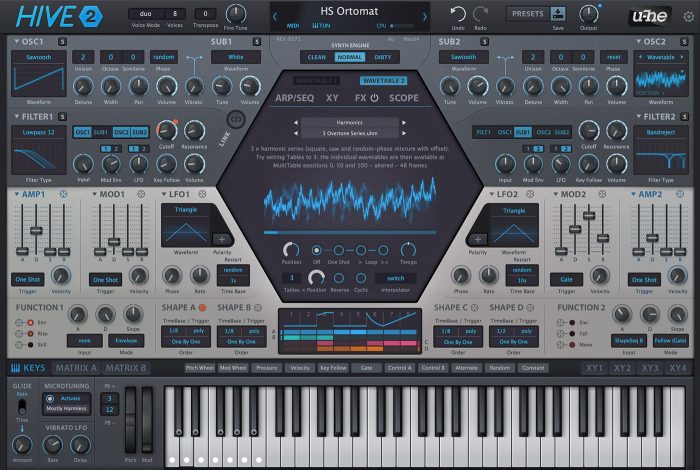 Six months after adding wavetable support, we've completed the long awaited overhaul of Hive's user interface. While the basic layout remains the same, we managed to improve readability and contrast. Workflow has undergone significant improvement, including extended drag & drop support for modulation assignment, with on-target editing. An invaluable tool for sound designers, the new Scope module adds realtime visual feedback for the audio or up to 4 modulation sources, with freeze and zoom functions.

At the heart of the Hive 2.0 upgrade are the new modulators. A novel 8-segment Shape Sequencer adds 4 sources for evolving modulations, per-voice envelopes, rhythms and gates. The basic shapes and levels, curvature and "ratchet" amounts can be individually edited. Surrounding the Shape Sequencer are two westcoast-style Function Generators which are triggered by the keyboard gate, Shape Sequencer, LFO or any other modulation source. Although they are basically AD-envelopes, the function generators can also be used as extra LFOs or lag generators. The new modulators perfectly complement Hive's existing envelopes, LFOs and sequencer – they were designed to match Hive's core strength: Ease of use and fast workflow.

Updates to the Modulation Matrix include visual feedback on the recently introduced modifiers (e.g. Rectifier and Slew Limiter), chord- and scale-based quantization options and a new Sample & Hold. Building on these concepts, we added a global scale-based quantizer to Hive's keyboard control which can also be used to modulate oscillator pitch in the musical scale of your choice – a simple way into the world of algorithmic composition, chiptune arpeggios and automated chord progression.

To illustrate the new options, we asked some of our favourite sound designers to create over 350 new presets, which include mesmerizing evolving pads, surprisingly complex rhythms and even complete one-note demos. Those presets can easily be found by clicking on the special "saved search" in the preset browser.
Hive 2.0 is available in VST/VST3, AU, AAX and NKS formats, priced at 149 EUR at u-he and distributor Plugin Boutique.
The upgrade for Hive 1.x owners is 20 EUR. If you've purchased Hive 1.x after January 20th, you can get the upgrade for free.