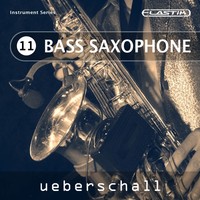 Ueberschall has introduced Bass Saxophone, a new Elastik Soundbank featuring 140 sax loops.
Everybody who thought the classic "buab" by Tower of Power´s baritonesax sounds deep should listen now to these loops. That´s really new: so soulful and melodic, almost a half octave lower are these new Bass Sax loops, played in a contemporary groovestyle. Played by Multisaxman David Milzow on an extraordinary HighClass- Instrument of the Keilwerth company, these samples show the really new possibilities of this "beast", think of "Barry White goes Sax".

The saxophone for this production was recorded with premium-class microphones and high-end analog/digital converters. All Licks in this library are available as dry versions, without any additional e.q.- , compressor- or reverb effects.
The sample library costs 39 EUR.
More information: Ueberschall / Bass Saxophone