Ueberschall has released two new Elastik Soundbanks, Reggae Fundamentals and Analog Attack.
Reggae Fundamentals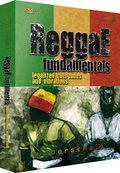 Reggae Fundamentals is a specialized sample compilation which includes 33 construction kits and 12 Drumkits sheltered in 2 GB of ready to work content offering authoritative most current Reggae environments.
The kits are jam packed with everything you need to give your production the finishing touch: bass-, synth-, drum- and padlines also vocals, FX and atmospheres. All patterns, shots, and riffs have been molded with state of the art techniques,tricks and tools. This set has a colossal variety of styles from different periods of reggae history: Roots, modern Roots, Rub-a-Dub, Dancehall, Modern Reggae, Caribbean and Dub.
Also included are hundreds of drum and percussion samples and loops. Providing a wide radius of reggae concentrated mix tools. All this material is supported by the elastik audio instrument, so you can expect organization and easy tweaking straight from the get go.
Analog Attack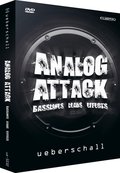 Analog Attack is a complex, well structured sample library which includes more than 1450 diverse Patterns and Sequences.
Jammed with 1.6 GB of first class analog purity. This massive library is organized into 116 folders. You´ll find in each folder several variations of the main sequence in terms of filtermovements, sounds and grooves. It makes it very flexible to use. All sequences provide BPM and root key information within the samples name, simplifying optimal selection and rapid fusion to productions.
Analog Attack was developed with analog synth and signal processing gear of today and yesterday The instruments used for this production include: Minimoog, Moog Voyager, Prophet 5, Prophet 600, Andromeda, Se-1x, Omega 8, Arp 2600, Yamaha CS 80, Juno 106, SH 101, Matrix 6
Both Reggae Fundamentals and Analog Attack are available for $119 USD / 99 EUR each.
Visit Ueberschall for more information.