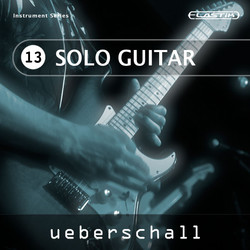 Ueberschall has introduced Solo Guitar, a new Elastik Instrument series library, containing loops of solo guitars covering a broad spectrum of styles and genres ranging from 60s, 70s, 80s, Jazz, Funk, Rock, Pop, SFX to feedback sounds.
Each Solo Guitar loop is 32 bars in length and lasts between 0:50 and 1:45 minutes, depending on the tempo. Included are sounds of acoustic and electric guitars. All acoustic guitars have been carefully recorded using high quality microphones. The electric guitar loops offer clean, crunchy and distorted solo licks. Among the guitars used were selected models produced by Gibson, Fender, Ibanez as well as Martin and Yamaha.

Using Ueberschall's Elastik Player allows adapting the library's loops to your own projects with ease. At the same time, the loops can be used in different genres besides pop and rock. It is also possible to use selected parts of a full solo loop. Elastik Player ensures fast integration of any phrase into your productions – be it for music, web applications, video sound or game audio.
The Elastik soundbank costs 49 EUR.
More information: Ueberschall / Solo Guitar