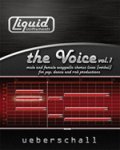 Ueberschall has released 2 new additions to the Liquid Instrument Series: The Voice vol.1 and The Voice Vol.2.
Both libraries feature 300 vocal phrases between 2 and 8 bars, focused mainly on pop, dance and RnB productions.
Whereas The Voice vol. 1 has verbal vocal lines such as "listen to the groove" and "ready for my love", vol. 2 features non-verbal melodic lines.
The vocal phrases of a choir have independently editable voices. This means it is possible to change a single voice within a choir – independently from the other lines – and to adjust it to your own needs. You can basically create every vocal harmony and every chord progression you can think of.
Features
control audio material as simply as midi data
change notes within the phrase
adapt tempo and key
select from a wide range of musical scales
control all parameters in realtime
pre-screening with adapted pitch and tempo
easily generate your individual setup
high quality Melodyne technology
multiple content management
edit start and ending
quick sound browser
all parameters midi controllable
sync to host
great bandwidth of styles
highest quality recording equipment
Visit Ueberschall for more information and sound demos.