Ugritone (formerly known as It Might Get Loud Productions) and Stratovarius guitarist/producer Matias Kupiainen have teamed up to bring you Northern Artillery Drums, a drum sample library straight out of the cold and dark depths of the North.
Featuring 2 Mix-ready Drum Kits, 3 Kicks, 5 Snares and a boatload of cymbals Northern Artillery Drums is a thunderous drum solution for a songwriter/producer/musician of any caliber.

Northern Artillery Drums was recorded by Matias Kupiainen at 5by5 Studios in Helsinki, Finland and gives you a rare access to drum arsenal of Stratovarius/Solution .45/Miseration drummer Rolf Pilve.

Whether you're writing breakneck speed Death Metal or triumphant Power Metal, Northern Artillery Drums can cater many different styles of heavy music.
Northern Artillery Drums features
Classic Finnish Metal Sound.
3 kicks, 6 snares, 2 set of 5 toms, 19 cymbals, 62 oneshots.
7 Kit Presets – Multiple Routing and MIDI Mapping Options.
Add your own oneshot samples.
VST/AU/AAX Compatible.
The plugin is available for $79 USD ex. VAT where applicable.
Ugritone has also released three new drum MIDI groove packs: Grunge Rock Essentials, Heartland Rock Essentials and Post Metal Essentials.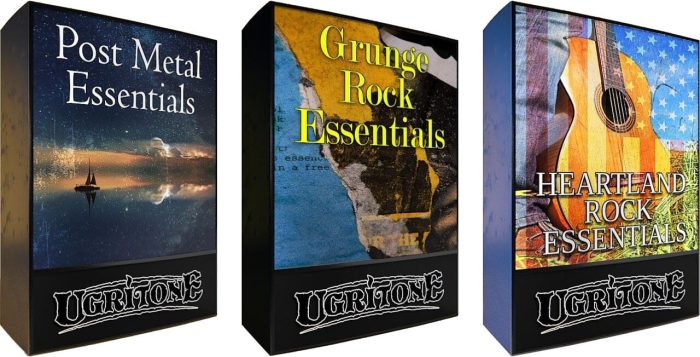 Post Metal Essentials features drum grooves from the Apocalyptic wastelands, ethereal atmospheres and silent lucidity. Ranging from slow back beats into mathematic chaos beats, Post Metal Essentials covers it all.
Grunge Rock Essentials packs all the essential drum beats from the rainy Pacific Northwest. Popularized in the early 1990's Grunge Rock dominated the rock scene with its raw energy and unorthodox melodies. Grunge Rock Essentials takes you down the memory lane past Pike Place & Spaceneedle right into the down and dirty grooves of Seattle's finest exports.
Heartland Rock Essentials lives and breathes drum grooves from the America's Heartland. Often confused with Country, Heartland Rock dominated the airwaves of mid-80's blue-collar working man. Whether it was from suburbs of Jersey Shore to the plains of Small Town Indiana, Heartland Rock has a foothold in the Great American Songbook.
The MIDI packs are $15 USD each.
For a limited time only you can use coupon code REKKERD at checkout to get a 20% discount on your order.
More information: Urgitone