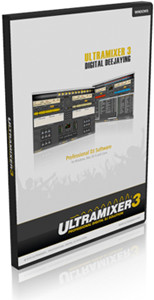 UltraMixer Digital Audio Solutions has released UltraMixer 3, a cross-platform professional digital DJ solution for Windows.
UltraMixer 3 is the third generation of the reliable digital deejaying software which enables you to mix digital music in various formats such as MP3, WMA, AAC, OGG, WAV, FLAC or CDs in real time. All you need is a sound card.

The DJ's turntables are replaced by two digital SoundPlayers, the "vinyls" are available within seconds through the integrated FileArchive. No matter whether you want to use UltraMixer for a professional gig or at a private party or as virtual jukebox in restaurants, hair studios or medical surgeries – it will prove the right choice!
New in UltraMixer 3
[FileArchive] Function to export playlists as CSV file for import and print from Microsoft Excel / Open Office / Apple Numbers.
[FileArchive] Hierarchical table sort according to Artist, Title and Album.
[MIDI] Accessing loops with Hercules DJ Console MK4 und Hercules DJ Control MP3 e2.
[MIDI] Hercules MP3 e2 LED support.
[MIDI] Support of Hercules DJ Console 4-MX.
[Preferences] Option to disable the automatic beatmatching of loops.
[Preferences] Option to enable automatic Beatmatching of Cue Points (only for MIDI controllers).
[Preferences] Support of additional languages.
[Sampler] Drag'n'Drop for Sampler-SlotButtons.
[User Interface] Optimized function to show tracks in Explorer/Finder.
[User Interface] Volumefader in Previewplayer integrated.
[Waveform] Hot Cue position should be visualized in the Waveforms in addition to the saved Cue points.
Many improvements and fixes, details here.
UltraMixer 3 Professional for Windows, Mac and Linux is available to purchase for 229 EUR / $299 USD / £229 GBP (TAX/VAT included).
More information: UltraMixer