Plugin Alliance has released Fault, a stereo frequency and pitch shifter with a dual delay and six feedback paths.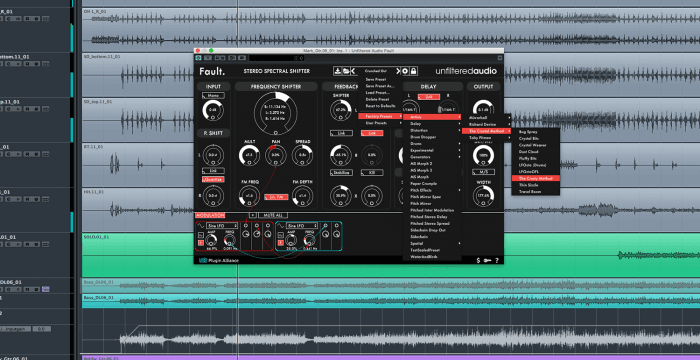 No other plugin has the comprehensive ability to manipulate pitch and time like Fault. Whether used at mixdown to fortify weak tracks or in sound design to totally mangle instruments beyond recognition, Fault's applications are limited only by your imagination. With over 100 factory presets included– featuring settings from contributing artists like Richard Devine and The Crystal Method– finding creative inspiration with Fault is fun and engaging.

Three main processors power Fault's comprehensive spectral control. Dual-channel Pitch Shifters musically retune sounds up or down as much as a full octave, in steps as small as 0.1 semitone. The stereo Frequency Shifter can be modulated by precision FM controls to create beautiful and discordant sounds alike. Stereo Delays use cross-channel feedback and filters to add immersive depth. And if that weren't enough, every control knob and switch setting can be itself controlled dynamically by up to six powerful and flexible modulators.
Fault features
Over 100 presets featuring settings from Richard Devine, The Crystal Method, Mirrorball Entertainment, and Toby Pitman of Air Studios.
Artifact-free frequency and pitch modulation.
Dual-channel Pitch Shifters can be stereo-linked and quantized to whole-integer semitones.
Stereo Frequency Shifter can be modulated using high-resolution FM Frequency and Depth controls.
Stereo Delays can be synced to host's tempo.
Six feedback paths—three each for the Frequency Shifter and Delays—including cross-channel feedback.
Unfiltered Audio's flagship modulation system provides six freely assignable and fully automatable modulators with drag-and-drop virtual patching: sine LFO, sawtooth/triangle LFO, square-wave LFO, input follower, sample-and-hold noise, and macro control knob.
Mid/Side processing adjusts stereo image from mono to super-wide, and provides optional output in M/S for further processing.
High Pass and Low Pass filters can be switched to process just the wet signal or both wet and dry.
Dry/Wet control provides parallel processing.
Built-in soft clipper, anti-aliasing filters, low-fi sampling rate control and ring-modulator mode.
Fault for Windows and Mac (VST/AU/AAX) is available for purchase for $99 USD.
More information: Plugin Alliance / Fault