Unfiltered Audio has released Indent, a new distortion effect plugin for Windows and Mac.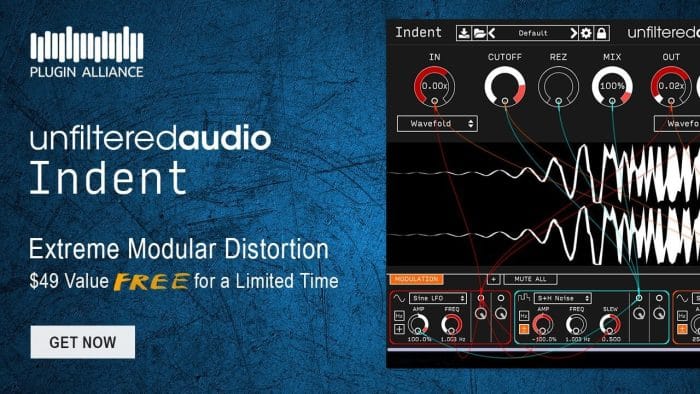 Indent is your crunch commander for electric guitar, bass, synth and drum tracks, delivering saturated tones from subtle grit to destructive overdrive.

Choose among four different-sounding clippers—Hard Clip, Soft Clip, Wavefold and Overfold—at Indent's input and output stages to add saturation with the perfect color. Then adjust the analog-style low pass filter's Cutoff and Resonance controls to refine the tone from buttery-smooth to ripping. Indent's Mix control blends the perfect amounts of dry and processed signals, letting you add just a hint of saturation effects or go full bore.

Using Indent's simple and intuitive interface, crafting overloaded guitars, growling bass and fat and trashy snare drum tracks is child's play!
Indent features
Great for producing both familiar guitar pedal-style effects and unusual sounds that surprise and provoke.
Simple controls and intuitive visual interface help you saturate or mutilate tracks quickly and easily.
Choose one of four clipping algorithms—Hard Clip (digital), Soft Clip (analog emulation), Wavefold and Overfold—independently for Indent's input and output stages.
Unfiltered Audio's flagship modulation system provides six freely assignable and fully automatable modulators (sine LFO, sawtooth/triangle LFO, square-wave LFO, input follower, sample-and-hold noise, and macro control knob), with drag-and-drop virtual patching to every control knob.
Analog-style low pass filter with continuously variable resonance control.
Mix control provides parallel processing.
Display shows processed signal at the sample level, guiding your control tweaks.
Indent for Windows and Mac (VST/AU/AAX) is available for free from Plugin Alliance until August 15th, 2016.
More information: Plugin Alliance / Indent