UVI has announced the release of a new virtual instrument based on the definitive LAMM mod analog synthesizer.
PX Memories delivers massive sounds with true hardware analog unison, and lets you explore hundreds of custom designed presets and create your own.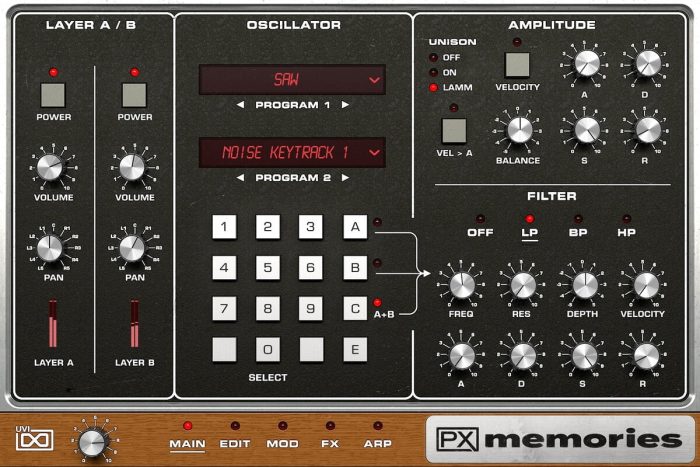 The instrument comes with a total of 353 presets divided into 16 categories, made from 171 programs, created with no less than 38,988 samples.
Iconic, renowned, and arguably one of the sweetest sounding and most powerful analog synthesizers, PX Memories takes a deep-dive into the Lintronics LAMM. Based on the last and most ambitious of its makes polyphonic synths before going bankrupt in 1987, its development seems to have been incomplete, with a reputation for unstable tuning and difficult system navigation, and a subsequent Plus model with only basic MIDI implementation.

Taking this beast the final mile and making it the rock-solid road-worthy dream machine it was intended to be is Rudi Lindhard's Lintronics, a synthesizer repair and mod shop based in Germany, who developed this comprehensive system modification over 6 years. Those lucky enough to come by a LAMM will find the iconic six-voice sound to be stable, more easily editable, with improved IO, an enhanced stereo output, a world-class MIDI implementation making most all of the front panel controls transmit and be responsive to control change messages, and much more.
Running in UVI Workstation (free) and Falcon, PX Memories is offered at an introductory price of $49 USD / 49 EUR through January 31st, 2021. The regular price is 79 USD/EUR.
More information: UVI