UVI has announced the release of Drum Designer, a modern virtual drum instrument, including powerful new Kick, Snare, Clap and Cymbal sound design engines, a dedicated 8-part sequencer and more.
Drum Designer combines the best of synthesis and sample-based drum techniques, breaking down drum hits to the component level and allowing users to rapidly create, edit and combine sounds with the flexibility of a synthesizer and the polish and impact of high-quality sample libraries.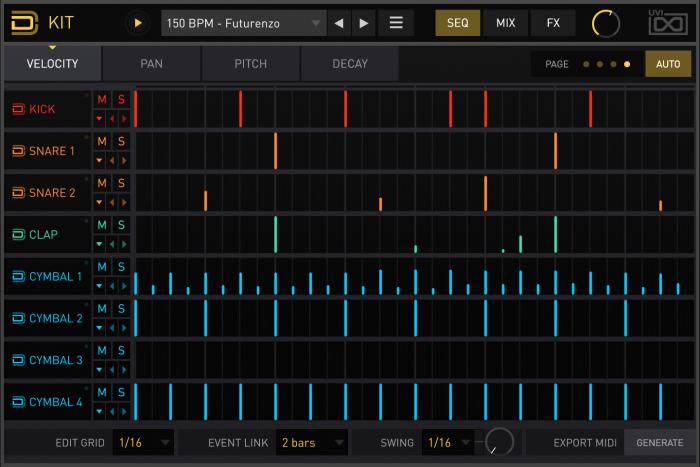 Created with a focus on today's detail-oriented sound design and production methods, Drum Designer presents 4 dedicated engines outfitted with a combination of component drum samples and customized synthesis layers utilizing 3d wavetables. Each engine presents a deep and flexible toolset to help producers create powerful and iconic drum sounds, quickly explore variations, and mix them into existing tracks of any style.
Users can make broad-stroke changes to preset sounds with front page macros or take complete control over individual hit components with detailed editors and a versatile effects section. Each voice archetype (kick, snare, clap and cymbal) allows surgical sound shaping through component-specific editors including control over time, gain, pan, pitch, key-tracking, HP and LP filters, sample start time, phase, AHD amp envelopes, stereo width and more. Drum sounds can be further tweaked and refined through an effect section including transient designer, soft clipper, stereo width, EQ and convolution reverb.
Drum Designer can be instanced as single instruments or as an 8-part kit (including 1x Kick, 2x Snare, 1x Clap and 4x Cymbal engines), controllable by your host DAW or from the internal sequencer.
Drum Designer offers native 64-bit standalone operation by way of Falcon or the free UVI Workstation, providing comprehensive support for all modern DAWs and simultaneous authorization on up to 3 computers or iLok keys.
Drum Designer is available now at the intro price of 99 USD/EUR through October 1st, 2018 (regular 149 USD/EUR).
More information: UVI