UVI has launched Synth Anthology 2, an update to the virtual instrument library featuring a collection of vintage and modern synth sounds for UVI Workstation and Falcon.
An incredible collection of hardware synthesizer sounds, expertly programmed, individually sculpted with outboard processors, multisampled and mastered to perfection. Synth Anthology 2 delivers the pure and powerful sounds of 77 hardware synthesizers gently massaged and accentuated to taste with the best hardware processors on the market.

You'll find everything from classic analogs like the Oberheim Xpander and Jupiter 4 to digital powerhouses like the Synclavier and FS1R to modern classics like the OB-6, Prophet 6 and Minilogue, all expertly programmed and exquisitely sampled, delivering the authentic and unmistakable sound of hardware.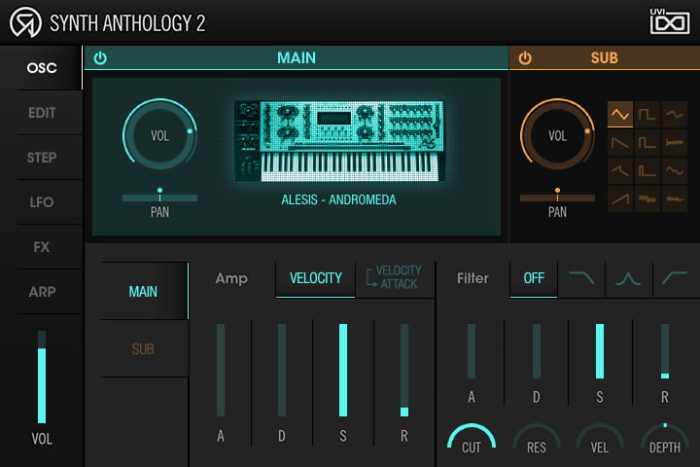 Changes in Synth Anthology 2
25 new hardware synthesizers used to create unique presets, including Oberheim OB6, Dave Smith Prophet 6, Korg Minilogue, Moog Sub37, Novation Basstation 2, Novation Ultranova, Ensoniq ESQ-M, Siel DK80, Akai AX80, Alesis Fusion, Korg Triton, Roland Juno 60, Roland Juno 106, Emu Emax, ARP Odissey, ARP Quadra, Formanta Polivoks, Vermona Tiracon 6V, Moog Source, Studio Electronics Boomstar 5089, Moog Polymoog, Roland JX8P, ARP Chroma Polaris, Yamaha CS20m and Elka EK44.
500 newly crafted presets.
Clean and modern interface design.
New effects including Sparkverb, Thorus, Phasor, Dual Delay and Redux.
Synth Anthology 2 is available from Plugin Boutique for the introductory price of 99 EUR/USD until November 14th, 2016 (regular 149 EUR).
More information: UVI / Synth Anthology 2