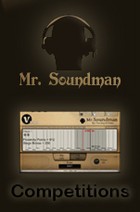 V-Plugs has announced the Mr. Soundman Summer Competition, offering a chance to win V-Plugs effect plugins by competing in an ear training game.
Mr. Soundman is a free challenging Ear Training game for music producers and sound engineers, that enable users to assess and improve their frequency detection skills, to compete with other users around the globe, and to win prizes.

The Mr. Soundman summer competition will run until August 31, when the winners will be announced.

The competition's standings can be viewed in real time on V-Plugs site.
Competition prizes
1st place: V-Plugs Echo Trip + Uranium + Emphasizer
2nd place: V-Plugs Echo Trip
3rd place: V-Plugs Uranium
More information: V-Plugs