VCV has launched a new stereo parametric equalizer for the VCV Rack open-source virtual modular synthesizer.
Parametra comes with with eight CV-controllable filters and a spectrum viewer, and includes 17 types of filters for polishing tracks in a mix or designing complex VCFs (voltage-controlled filters) allowing audio-rate modulation.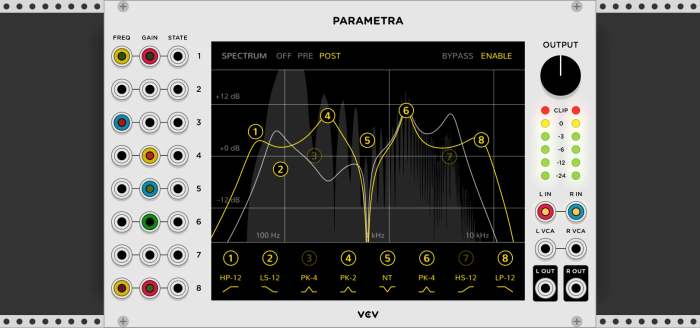 Each filter is represented by a node in the spectrum display. Drag a node horizontally to adjust the cutoff frequency of a filter and vertically to adjust its gain. These positions can be controlled by a CV signal using the FREQ and GAIN inputs for each filter.

Toggle the on/off state of each filter by clicking the node below the spectrum display, right-clicking the node itself, or by sending a 2V or higher trigger in the filter's STATE input.

To change the filter type, click the filter type name/diagram at the bottom of the main display and select the desired filter from the dropdown menu. Parametra includes 17 transparent biquad filter types.
The Parametra VCV plugin is available for purchase for $30 USD. Profits will be used to fund new Rack versions.
More information: VCV