Vienna Symphonic Library has announced the release of Synchron FX Strings I, a new strings library recorded with the signature ambience of VSL's newly refurbished scoring stage, Synchron Stage Vienna.
The collection includes production-ready musical textures and loops using a 50-piece string orchestra, enabling you to create everything from ethereal, spheric soundscapes to pulsating melodic ornaments, suspense clusters and aggressive strikes.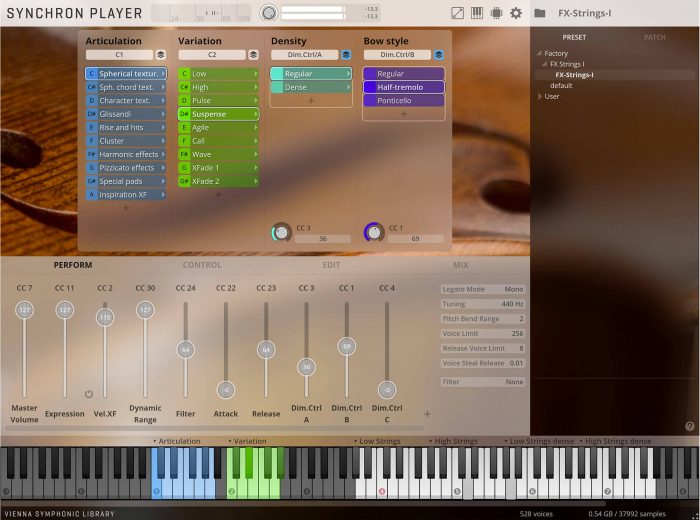 Synchron FX Strings I is an infinite source of inspiration and a fantastic tool for designing entire worlds. Easily create effects and soundscapes by holding one or two keys, and add variety and changing colors by moving pre-configured controllers. We captured unique sounds and playing techniques that have never been sampled before. Where other products quickly reach their intrinsic limits, your musical journey into previously unheard sonic worlds is just beginning with Synchron FX Strings I.

Whereas Vienna's excellent musicians usually avoid experimentation during sampling sessions, in this case they were asked to cast aside convention and go far beyond their normal limits. The result is a treasure trove of tonal and atonal textures and elements that you may blend effortlessly for creating your very personal, unique sound. All varieties and combinations are easily accessed with the new Vienna Synchron Player. Synchron FX Strings I is not limited to orchestral applications but can be used in any contemporary genre and style, such as Ambient, Alternative, EDM, World and many others.
Synchron FX Strings I features
Ready-to-use musical elements, from breathy, spherical pads to pulsating or even aggressive patterns and rhythms.
Large 50-piece string ensemble, divided in 6 sections: 14 first violins, 10 second violins, 6 first violas, 6 second violas, 8 cellos, 6 double basses.
Total flexibility for infinite creative possibilities – almost "everything may be combined with anything".
Large selection of presets in ten categories (spherical textures, spherical chord textures, character textures, rises and hits, glissandos, clusters, tremolos, harmonic FX, pizzicato FX, Inspiration XFades).
All-new, easy-to-use Synchron Player with high-performance playback engine.
Intuitive access with three pre-configured real-time controllers: Bow Style (CC 1), Velocity (CC 2), Density (CC 3)..
Multiple microphone arrays provide for a wide variety of sonic possibilities, from stereo to 5.1 surround and Immersive Audio (Dolby Atmos, Auro 3D). Additionally, each musician was recorded separately with a dedicated microphone, and all signals were down-mixed to provide you with an optimized section sound.
Synchron FX Strings I for Windows and Mac (VST/AU/AAX) is available at an introductory discount of 25% off until June 30th. The Standard Library is on sale for $294 USD (regular $354 USD), while the Full Library is $552 USD (regular $648 USD).
Additionally, the Synchron Package that includes all products of the new Synchron Series (Synchron Percussion I, Synchron Strings I, Yamaha CFX, and Synchron FX Strings I) is currently available at a discounted bundle price.
More information: Vienna Symphonic Library