VirSyn has released updated versions of its iVoxel vocoder and Addictive microSynth apps for iPhone and iPad.
iVoxel is not only an amazingly sounding vocoder – the unique concept of iVoxel turns this vocoder into a singing machine. iVoxel is a combination of a voice optimized synthesizer and a vocoder. The vocoder part is based on the Matrix vocoder from VirSyn used by many famous artists – one of them the well known german group Kraftwerk. The channel filters used by iVoxel are based on the Sennheiser Vocoder VSM201 resulting in a rich and fat analogue sound characteristic.
Changes in iVoxel 2
Realtime pitch following.
Automatic tuning correction to selectable scale.
Polyphonic sequencer.
Voxel editing.
Hi-end Reverb.
Support for virtual MIDI input connections and Background Audio.
Support for Korg's Wireless Sync-Start Technology (WIST).
Publish recordings online with the SoundCloud audio platform.
Many more things and bugfixes.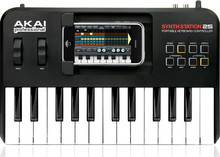 Version 1.1 of Addictive microSynth for iPhone introduces Akai SynthStation 25 support.
It was never so easy to create beautiful sounds and driving loops. The unique dynamic wavetable synthesis allows you to explore an unprecedented wide range of sonic territory. From acid loops, crystal clear percussions, realistic human choirs to complex musical sound scapes nothing seems impossible with only a handful parameters to tweak.

With Version 1.1 you get instant hardware access together with the AKAI SynthStation 25. Use the hardware buttons for scrolling through presets and arpeggios, operating the Arpeggiator and rolling our famous dice to get instant new arpeggio creations!
More information: VirSyn