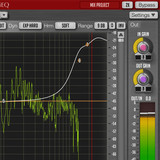 Voxengo has announced the release of HarmoniEQ 2.0, a parametric, harmonically-enhanced equalizer effect plug-in for Windows and Mac.
Since the easiness of tuning was one of our goals when producing this plug-in, HarmoniEQ features a single control surface to control the equalizer curve. HarmoniEQ's control surface workflow implements our best findings in the area of "user-equalizer" interaction. Just drag the filter control points to the right places. You can enable up to 7 filter bands, with the filter type freely-selectable from peaking, low-shelf, high-shelf, low-pass, high-pass and notch filter types.

Another useful element of HarmoniEQ is its control surface's frequency range which goes up to 38 kHz. Such extended range allows you to make smooth "air" boosts easily. While HarmoniEQ is best suited for EQ boosts, its EQ cuts also sound great.
Changes in HarmoniEQ v2.0
Better overall dynamic behavior.
Low-pass, high-pass and notch filters.
Real-time spectrum display with zooming.
Input signal level control.
Multi-channel support.
Multi-platform support.
Mid/side processing.
Undo/redo.
Channel routing matrix.
Preset manager.
User interface coloration.
User interface re-scaling.
Channel grouping.
Plug-in instance naming.
HarmoniEQ is available to purchase as an effect plug-in for PC and Mac (VST/AU) for the introductory price of $79.95 USD until 17 August, 2010 (regular price $99.95 USD). Upgrading from the previous version costs $49.95 USD if the previous version was purchased earlier than 90 days from 17 July, 2010 (otherwise the upgrade is free during this grace period).
With the release of HarmoniEQ 2.0 Vexengo has discontinued sales of the Lampthruster plug-in. A cross-grade is available for $49.95 USD.