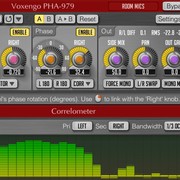 Voxengo has updated the PHA-979 phase alignment effect plug-in for Windows and Mac.
PHA-979 is useful during mixing sessions, especially when working with the sound material recorded through an array of microphones. In many cases this allows you to solve various phasing problems arising from the microphone placement chosen during the tracking session. In other cases this process may help you to align drums and other instruments to each other bringing punch and time coherence not attainable by the ordinary time-aligning alone.
Changes in PHA-979 v2.3
Incorrectly reported latency for sample rates above 44.1kHz fixed.
The "Min Infrastructure" user interface display mode added.v
The "Flat Level Meters" level meter display mode added.
PHA-979 for Windows and Mac (VST/AU) is available to purchase for $69.95 USD.