Voxengo has released version 4.1 of Elephant, a mastering limiter plugin for professional audio and sound production applications.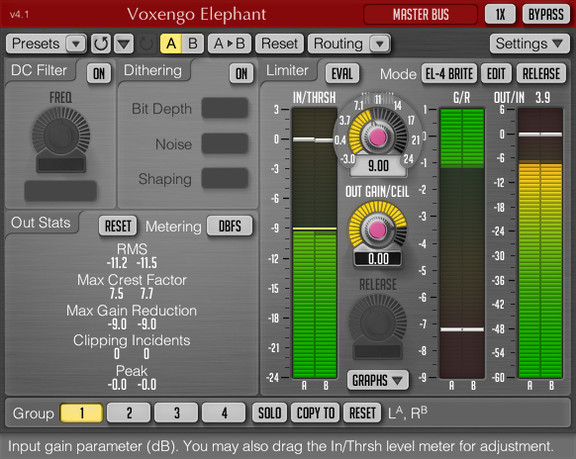 Elephant is a highly competitive plug-in for mastering applications: it features a variety of limiter modes that can be deeply customized, and a comprehensive set of level metering tools, including headroom estimation and K-metering. Elephant's built-in linear-phase oversampling is an important element in achieving high-quality peak limiting and loudness maximization without inter-sample overshoots.
Changes in Elephant v4.1
Extended the input gain range to +24 dB.
Extended the output gain range to -15 dB.
Made the "Eval" switch to not affect the output statistics.
Extended the "Release Shape" range to 2, offers an extreme punch and "hardness", via an idealized S-curve release shape.
Added "EL-4 BRITE" factory limiter mode.
Made the output signal level to never exceed 1 dB over the Out Gain setting.
Improved the "EL-4" algorithm reducing transient distortion and "boxiness": the sound is more biting less woofing now.
Improved oversampling filters reducing chances of overshoots.
Elephant for Windows and Mac (VST/AU) is available for purchase for $119.95 USD.