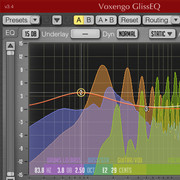 Voxengo has released version 3.4 of GlissEQ, a dynamic parametric equalizer plug-in for Windows and Mac.
The most interesting and unique feature GlissEQ offers you is its filters with dynamic behavior. Beside this wonderful "dynamic behavior", GlissEQ features real-time spectrum analyzer. Moreover, the spectrum of a track can be exported to any other instance of GlissEQ thus making real-time inter-track spectrum comparisons possible. This can help you free frequency ranges in one track to allow the instrument in another track occupying same frequencies breathe.
Changes in GlissEQ v3.4
A wrong level meter visual look on Mac OS X fixed.
Fixed a chaotic movement of the 2nd band when a new band is added.
Secondary spectrum import/export added.
Window resizing implemented.
Static spectrums display and disk saving implemented.
Plug-in's popup-windows now recover last position after reopening.
Mouse backward and forward buttons can be used for filter type and parameter value selection.
GlissEQ for PC and Mac (VST/AU) is available to purchase for $109.95 USD.