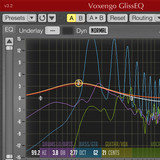 Voxengo has released version 3.2 of GlissEQ, a dynamic parametric equalizer plug-in for Windows and Mac.
The most interesting and unique feature GlissEQ offers you is its filters with dynamic behavior. Such "dynamic behavior" gives you a friendly, assisting equalization experience. Boosting up the highs will not create the fatiguing effect of overload; boosting up the lows will not make things sound mushy. Instead, you will get a pleasant transient-emphasizing effect bringing life and dimension to your tracks.
Changes in GlissEQ v3.2
Smoothed spectrum display implemented.
Mid/side spectrums are now shown correctly.
Spectrum's block size does not affect vertical spectrum's position now.
Secondary spectrum display implemented.
EQ highlight areas implemented.
The "No Multi-Channel Operation" global switch was added that fixes incompatibility with some non-VST2.3 compliant VST hosts.
Graphics drawing performance improved considerably.
Scroller positions are now preserved when the user interface closes.
The "Show All Channel Meters" routing switch added.
Default band's bandwidth and Dyn values can be now defined via band 1 in the first group.
GlissEQ is available to purchase as an effect plug-in for PC and Mac (VST/AU), priced at $119.95 USD.