Plugin Boutique has launched an exclusive sale on W.A Production InstaChord, a MIDI processing plugin that aims to help you play chords and chord progressions in a very simple way.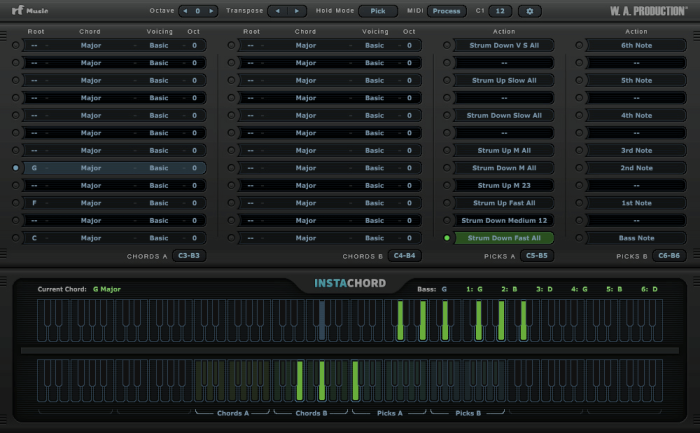 Chord progressions and chords in general are a very important part in all genres of music, especially EDM. EDM having the most dynamic range of chords and elements than most genres. So we get that it is SUPER important to have a catchy and rhythmic chord set up.

InstaChord adds a major ease to creating these catchy chords by basically doing it for you but allowing you to 100% customize how the chords are strummed, what notes are in the progression, velocity, and the octave you want it set it. Below are some of the features that InstaChord comes with with a few details on them.

Though Chords on keyboards and guitars are voiced a bit differently due to the string tuning and their orders, InstaChord includes different chord voicing modes and at this current moment, keyboard and guitar modes are available.

InstaChord has this amazing ability that if the key of the track changes, you can use the transpose buttons to move all the chords up and down. Another amazing thing is you can also bypass the process if you need to play the target instrument in a normal way. InstaChord also comes with an amazing variety of Presets to choose from.
InstaChord features
A long list of common chords to choose from (major, minor, suspended, etc).
ALL chords come with different voicings.
24 fretting keys to set and choose chords.
24 picking keys to set and play chords.
Hit the chords with only ONE key or play their notes separately.
Transpose all the chords up or down at once.
Customize mapping for fretting and picking keys.
InstaChord for Windows and Mac (VST/AU) is on sale at 80% off, priced at £10.95 GBP / $14.90 USD until May 1st, 2018.
More information: W.A Production InstaChord