Plugin Boutique has launched an exclusive introductory sale on InstaScale, a new MIDI processor plugin by W.A. Production.
Instascale is a newly invented, scale oriented instrument with only 16 keys to play with. But wait, is that enough? Turns out it's more than enough. Unlike the standard keyboard instruments where each key can only play a single note, Instascale has a set of smart keys, each one capable of playing different notes. The new note will be based on the given scale, last note's position and the action of the key assigned to it.

Instascale is available as a MIDI processor plugin that can be used in any DAW that supports VST instrument plugins (with MIDI routing) or AU MIDI effect plugins, given you the freedom to play any instrument you choose without any limitations regarding the sound and hardware.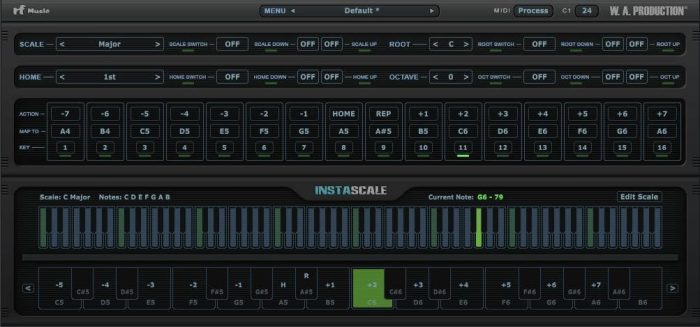 InstaScale features
Relative Playing: Experience the idea of relative notes and new possibilities to play musical instruments.
Scales: A list of commonly known and used scales such as Major, Minor, Melodic Minor, Harmonic Minor, Spanish, Arabic, Major Pentatonic, Minor Pentatonic, Blues, In Sen, Hirajoshi and more.
User friendly Interface: There are a lot of elements on the interface such as different readouts, virtual keyboards and graphics which help the user have a better experience and get the most out of the plugin.
Edit or Add Scales: Users can edit existing scales or add their own scales (Full version only).
Home Note: The home note can be changed from the root to any other note on the scale making it possible to play different modes or accompany chord changes.
Playing Keys with lots of options: For each of the 16 playing keys, there are two menus. The mapping menu, and the action menu. First one determines where the key is placed on the controller, and includes a list of MIDI notes. The second menu determines what the key does and includes some static and some relative options like 'Home', 'Repeat', '+1', etc. You can read more about the playing keys in the manual.
Control Keys: There are several control keys that can be set and used to improve live performance. These keys provide an easy access to control and change the scale, octave, root and home parameters using midi notes on the controller.
Root -/+, Scale -/+, Home -/+, Octave -/+: When assigned to a midi note, these keys can be used to change the Key(root), Scale, Home Note and Octave by switching up or down the values.
Scale, Root, Home, Octave Switch keys: These assign a series of midi notes to be used to switch between specific values just by hitting a single note. For example by setting Root Switch to 'C2-B2', C2 on the controller will set the key to C, C# will set the key to C# and so on.
Poly: Multiple notes can be played simultaneously. Same notes can be stacked on top of each other to build chords. For example in C major, Home key plus two stacked +2 key will produce C major chord (C+E+G). The order of notes are important. So even if you're using MIDI editor in your DAW and placing them at the same point in time or even on top of each other, the first note created will be the first one processed and so the second note's value is based on the first ones.
Octave Shifter: Shifts the output octave up and down. Input octave can also be shifted to a more preferable playing position or to match the host's labels, using 'C2' menu.
Pass through mode: By changing the mode to pass through, users can bypass the plugin play the target instrument normally.
Map Playing and Control Keys: Instascale allows users to change the default settings and map all the keys to desired midi notes. Different keys can have the same offset value making it possible to set interesting playing modes.
User's manual, online tutorials and support: To get started and learn more about the plugin you can check out the manual and video tutorials. You can always contact us if you had any questions.
InstaScale (VST/AU) is on sale for only £9.95 GBP / $13.80 USD until July 31st, 2018.
More information: W.A. Production