W.A. Production has launched the Helper Series Bundle, a collection of 3 effect plugins.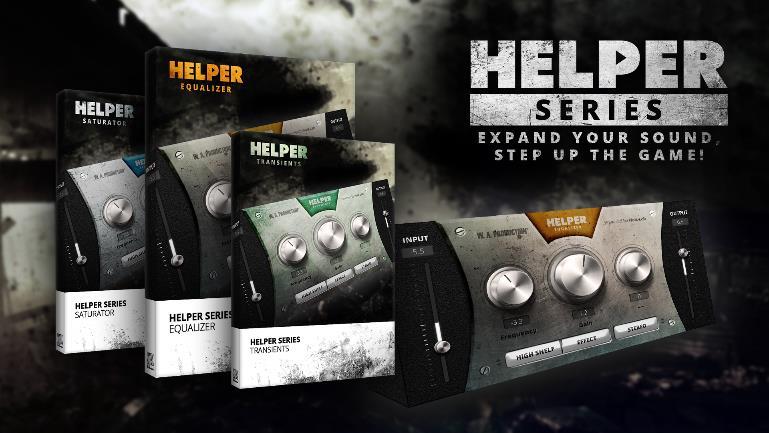 If you're a big fan of W.A. Production's killer plug-in – Pumper, then you shouldn't miss out on this series of simple-to-use plug-ins. The Helper Series are designed to bring your music mixing game to the next level and be vital mixing tools for you to add to your arsenal. It doesn't matter that you use it on individual channels or groups or the master channel, it guarantees to bring good results to your music.

Give your music an opportunity to stand out from the rest with these simple-to-use yet versatile plug-ins as we have carefully designed them to ensure that they are worth it and bring magical results to your song.
Helper Series features
Helper Equalizer, a unique and versatile equalizer plug-in that contains special features with excellent workflow and a simple-to-use user interface. Unlike any other equalizer plug-in, you'll get to play with 5 different EQ shapes to shape your sound better.
Helper Saturator is an audio effect VST plugin professionally designed to apply saturation to the audio signal. Helper Saturator is not just a simple saturation plug-in, it also comes with 2 filter features, 2 types of saturation modules and ability to be able to process 5 different types of audio signal.
Helper Transients is much more than an ordinary transient shaper plug-in because it can process 5 different kinds of audio signal from the audio source itself. This means that the user can set it to affect only the original audio source, the mid, the side, the left or the right of the audio source. This brings up a new realm of possibilities.
The Helper Series Bundle for Windows and Mac (VST/AU) is available at 30% off until May 9th, 2017. The plugins are also available separately.
The Pumper Stereo Imager is 60% off during the sale as well.
Pumper Stereo Imager is a stereo image processing plugin which enables you to create wideness within your mixes.

With this simple yet effective plugin you're able to add width to your sounds by using one single knob, without creating phasing issues in the mix. This great technique can be used in any scenario, whether it be applied to single or grouped tracks during the mixing and mastering process.
More information: Plugin Boutique / W.A. Production