Waldorf has introduced Streichfett, a hardware synthesizer unit that combines the best of the now extinct species of String Synthesizers of the 70s and early 80s.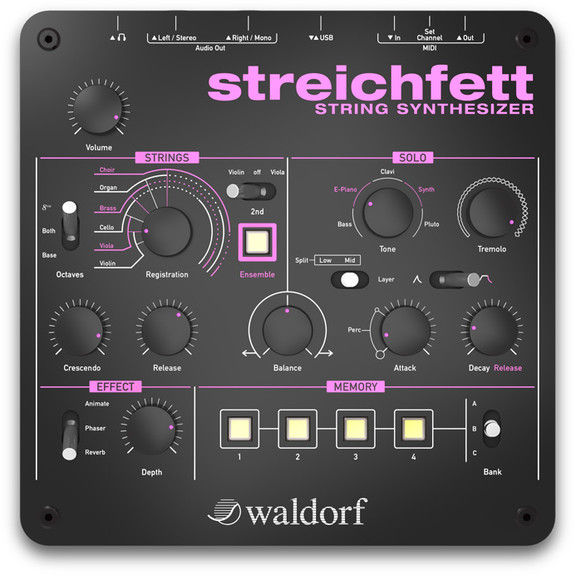 Its dual sound engine features a fully polyphonic strings section and a monophonic solo section, which is essential for recreating how adult movies sounded thirty years ago. The Ensemble Effect handles lubrication of the String Section, while the Effects section adds adjustable Phaser or Reverb. Alternatively, the Effect section can be used to animate the strings registration, allowing spectacular sound morphs.

The Solo Section offset presets named Bass, E-Piano or Clavi, and just like in your typical string machine, the sound has little to do with that name. Instead, these are shimmering and slightly percussive sounds that blend well with the string section.
Streichfett features
Fully polyphonic Strings Section with Violin, Viola, Cello, Brass, Organ and Choir presets.
2'nd Layer with Violin/Viola Voicing.
Ensemble Effect for String Section.
Typical String Envelope Generator with Crescendo and Release.
Monophonic Solo Section, offering Bass, E-Piano, Clavi, Synth and Pluto sounds.
Dedicated Tremolo for Solo Section.
Switchable Envelope generator with variable Sustain setting and Attack/Decay (Release) function.
Effect Section with Animate, Phaser or Reverb.
Layer or Split for Solo Section.
Dedicated balance knob for quick adjustment of layered/split sounds.
Fully programmable with 3 x 4 memory locations.
Pricing and availability TBA.
More information: Waldorf / Streichfett