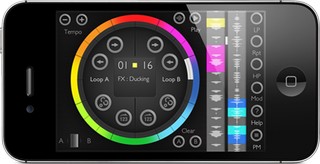 Waveforms has released version 1.4 of it Loop Twister beat-remixing app for iOS.
It turns your iPad and iPhone into a creative and powerful machine designed for playing and realtime processing of musical loops.

Easy to use, loaded with 96 fresh sounding loops and quality DSP effects gives you endless possibilities of new making sounds for using in your own beats or just for playing and having fun.
Changes in Loop Twister v1.4
Loops have their own names and can be quickly launched from a loop browser.
Bank Manager allows to switch between sets of loops and import new audio from General Pasteboard and iTunes documents folder to Loop Twister banks.
You can save up to 10 different patterns with loops for instant recalling in the future.
Your live performance can be recorded to a WAV file and copied to external computer using iTunes.
Trigger mode allows to manually launch different parts of loops and effects patterns (synchronously) during playback.
Content of both effect patterns and slice orders can be manually shifted forward and backward during playback.
Shifted patterns and effect patterns now can be cleared separately.
Effect controller for Spinner, Retrigger, Foldback distortion and Nasty! was created for additional control over these effects.
App works in background mode and mute button is settings are ignored.
Audio and some graphics are improved.
Fixed: Problems with interpolating samples.
Fixed: Importing non-120 BPM loops doesn't cause glitches.
Fixed: Fixed visual indicators and help screens on iPad3.
Fixed: Loops are audible even when device's MUTE button is set to ON.
Loop Twister is currently available to purchase for $2.99 USD.