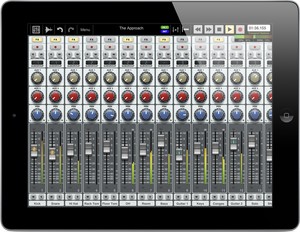 WaveMachine Labs has announced version 1.09 of its Auria digital audio recording system for iPad.
With the ability to play 48 mono or stereo 24bit/96 kHz tracks simultaneously, record up to 24 of those tracks simultaneously (through a supported USB multichannel audio interface), and edit and mix with familiar tools and full parameter automation, it's clear Auria sets a new standard for iPad multitrack recording.

What's more, Auria's 64-bit Double Precision architecture ensures ample headroom for plug-in processing and mix summing, transforming your iPad into a recording and mixing studio with sound quality that rivals most DAWs.
Changes in Auria v1.09
Fixed in 1.09

Fabfilter Pro-C, Volcano and Timeless plugins updated to fix loading issue.
MP3 Import not working correctly.
Audiobus not working when inserting apps in certain order.
Time Stretch causes clicks on certain regions.
Join function sometimes adds extra silence at the start.
Opening Process Menu clears solo.
Muted regions are now more transparent.
Auto Crossfade (in Settings menu) works on all regions now.
Fixed issue with accidentally entering highlight or locator set mode when double tapping in two different places.
When recording with loop mode enabled, nothing is recorded for the first second.
Fixed issue with no audio when using loop mode and rewinding.
Fixed crashing issue when undo-ing freezing/unfreezing track.
Fixed issue with plugin settings not restoring after undo-ing Delete Plugin.

Added in 1.09

Auria Forum link added to Main Menu.
Recent Project List added to Main Menu.
Auria for iPad costs $49.99 USD / 44.99 EUR / £34.99 GBP.
More information: WaveMachine Labs