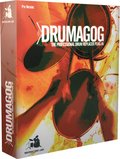 WaveMachine Labs has released version 4.11 of Drumagog, a plug-in which automatically replaces acoustic drum tracks.
Changes in Drumagog v4.11
Fixed graphics issue in Logic 8.
Added Vista installer.
Fixed PC issue that required installing extra runtime files.
Fixed "unloadable" problem with Cubase SX3.
Fixed Logic 8.0.2 AU validation issue.
Fixed problems with moving sessions between Intel and PowerPC Macs, and vice versa.
Fixed Add From File crashing bug under Vista.
Fixed issue in WaveLab, Audition, Sound Forge and others that caused problems rendering tracks.
Fixed various other graphics issues.
Visit the Drumagog website for more information.