Waves Audio has announced the release of its new effect plugin CLA Epic, a complete suite of 4 go-to delays and 4 go-to reverbs designed with studio legend Chris Lord-Alge.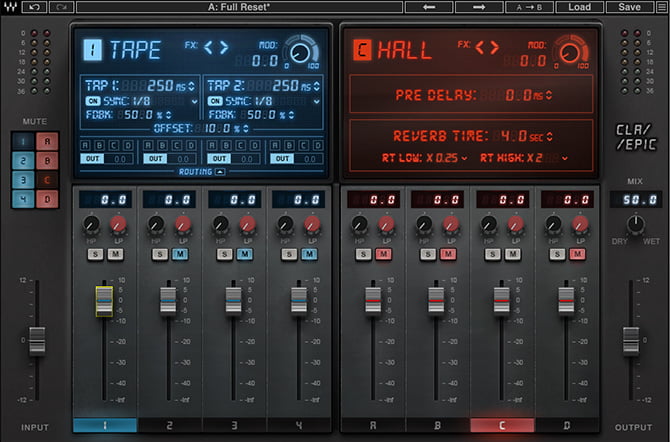 The suite is based on Chris' favorite studio gear, allowing you to easily blend his most epic effects, for more epic depth in your mixes.
Studio legend Chris Lord-Alge (Green Day, Muse, Bruce Springsteen) is a master at creating epic space and dimension in every song. And now he is giving you the key to that depth: his entire suite of reverbs and delays, in one epic plugin.

CLA Epic features Chris's 4 go-to delays (SLAP, THROW, TAPE, CROWD) and 4 go-to reverbs (PLATE, ROOM, HALL, SPACE). All modules are based on Chris's settings for his favorite studio hardware, which he uses in various combinations in every one of his mixes.

Whether used on vocals, drums, synths, guitars or other instruments – CLA Epic opens the gate to more depth in your mixes and productions.
CLA Epic features
Reverb & delay super-suite designed with Chris Lord-Alge.
Based on CLA's favorite classic studio gear.
Add epic depth, dimension and space to your mixes & productions.
4 delay modules: SLAP, THROW, TAPE, CROWD.
4 reverb modules: PLATE, ROOM, HALL, SPACE (Non-Lin).
Layer & blend the 8 effects easily on any track.
Send delays to reverbs with the click of a button.
Modulation control per effect to add texture and spread.
CPU-friendly.
50 powerful presets by Chris Lord-Alge.
Over 300 additional presets by Greg Wells, Michael Brauer & more.
Includes CLA EchoSphere.
The plugin is on sale for the intro price of $29.99 USD for a limited time (regular $199 USD).
More information: Waves Audio