Waves Audio has announced the release of its new audio effect Kaleidoscopes, a classic analog modulation super-suite of Phaser, Flanger, Chorus and Tremolo FX, with dual cascade engines and responsive real-time triggers.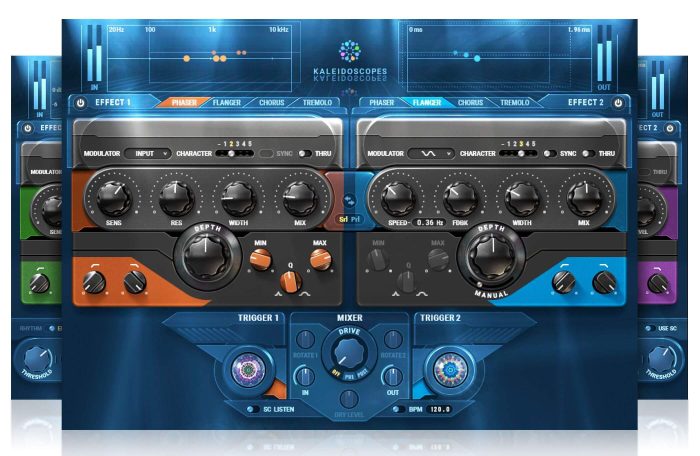 Kaleidoscopes is crafted from some of the best analog modulation studio classics.
The plugin's unique Dual Cascade engines enable you to combine or "cascade" any two effects for magical textures. The plugin also features intelligent triggers that respond dynamically to your playing in real time. Kaleidoscopes is a secret weapon to make drums, vocals, synths and guitars move and breathe—perfect to give your mixes depth, color and feel – inspirational during recording and performance.

Kaleidoscopes is the cumulative result of over half a century of recorded music. Waves has handpicked all-time-favorite analog effects from legendary eras – '60s phasing and tape flanging, '70s stadium tremolo-guitar vibes, '80s chorus – instilling the truest analog tones into Kaleidoscopes' DNA.

Furthermore, Kaleidoscopes' Dual Cascade architecture gives you two FX engines, which you can "cascade" serially into one another for unique effects or, alternatively, run in parallel for super-wide soundscapes.
Kaleidoscopes features
Phaser, Flanger, Chorus & Tremolo super-suite.
Best-of palette of analog modulation sounds based on studio classics.
Secret weapon to make drums, vocals, synths & guitars move & breathe.
Unique Dual Cascade architecture: 'cascade' any two effects in series or run them in parallel for deeper soundscapes.
Intelligent Triggering responds dynamically to your playing in real time.
Selectable modulation sources: input, sidechain & diverse waveshapes.
Speed, Resonance, Width, Depth & Mix controls per modulation engine.
5 different effect characters for diverse analog flavors.
THRU mode for the musician-favorite 'Wet/Dry' rig effect.
Regularly $99 USD, Kaleidoscopes is on sale for the intro price of $64.99 USD.
For a limited time only, you can purchase the plugin for only $38.99 USD with coupon code LASTCALL at the checkout.
More information: Waves Audio