Waves Audio has announced the release of the Abbey Road TG Mastering Chain, a new modular mastering chain effect plugin.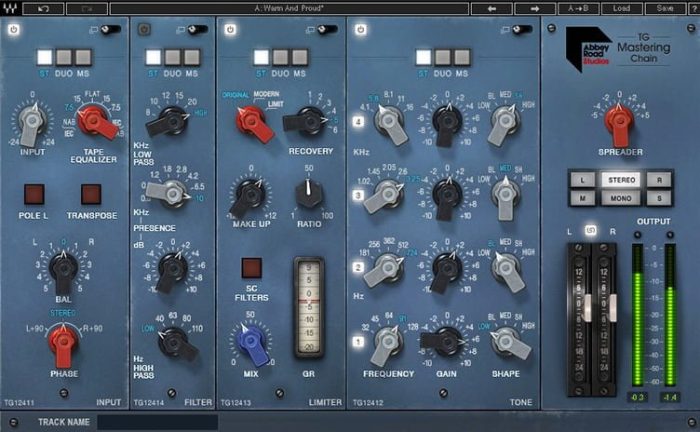 A modular mastering chain plugin modeled after the EMI TG12410 Transfer Console used in all Abbey Road's mastering suites since the early '70s to this day. Use the Abbey Road TG Mastering Chain to create custom processing chains with a flexible flow and the TG magic on the master bus, or on individual tracks/groups in a mixing session.

The distinct solid-state transistor-based sound of the TG12410 has proven itself time and again over many decades. Whether it's used for mastering as a complete console, or for mixing with only select modules, the TG brings nothing less than magic — the same magic heard on albums like Pink Floyd's The Dark Side of the Moon, Nirvana's In Utero, Radiohead's OK Computer and Ed Sheeran's "+". Thanks to this Waves/Abbey Road collaboration, the TG12410 is available outside of Abbey Road Studios and you can now bring the very same magic to your own productions.
Abbey Road TG Mastering Chain features
Integral part of the Abbey Road sound since the early 1970s to the present day.
5 modules that can be used independently.
Use in mastering or in mixing sessions.
48 dB/Oct linear-phase sidechain filters.
Meter Bridge component provides a new approach to metering.
More than just the original sound (with a new compressor design, SC filters and the meter bridge).
Stereo/Duo/MS processing modes.
Stereo/Mono/L/R/M/S monitoring modes.
Live component.
The plugin is on sale for the intro price of $39 USD (regular $199 USD).
More information: Waves Audio