Wavesfactory has announced an update to its The Tack Piano, a piano library for Native Instruments Kontakt featuring an upright with thumb-tacks on the hammers.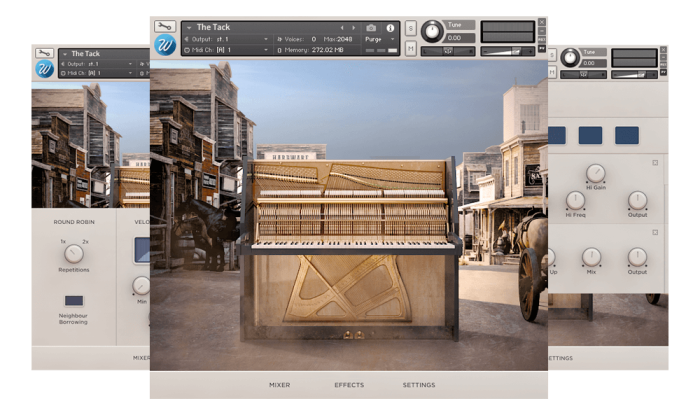 We are thrilled to present to you the new Tack Piano library. We originally released W-Honky back in 2010, being a basic upright piano mixed with a synthesized waveform to get the metal pluck. It had no round robin, no velocity layers, no release samples. In 2015 we released the first version of The Tack which included release samples, round robin and effects.

Today we release The Tack Piano, completely re-sampled from scratch, sounding better than ever being an authentic tack piano. Featuring a new UI with new effects, multiple mic configurations and advanced settings.

It's a dream come true for real tack piano fans like myself and a must-have in your piano collection.
The Tack Piano features
Piano library for Kontakt featuring an upright with thumb-tacks on the hammers.
With a more percussive sound it's often used to evoke the feeling of a honky-tonk, associated with ragtime pieces in old Hollywood Western movies.
Fully mixable 3-channel perspectives.
8 velocity layers and up to 6 round robin with neighbor borrowing.
14.22 GB, 9,118 samples.
Requires Kontakt 5.5.2 or higher, full version.
The Tack Piano library is on sale for the intro price of 59 EUR until March 31st, 2019. The regular price is 79 EUR.
More information: Wavesfactory