Waveshaper has announced the release of three new sample libraries.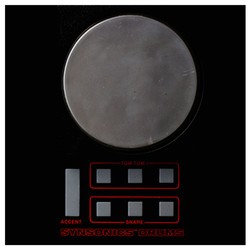 The Synsonix sample pack features sounds from the Synsonics drum machine by Mattel.
The Synsonics is a black analogue drum machine with 4 big pads to hit. The sound is very electronic, and there is a "tone" knob to shape the sounds. It can somewhat remind the Simmons drum synths from that era, in a more primitive form. It is a lovely piece of gear which doesn't sound at all like the others (think "Barbie meets PanSonic" to get a better idea).

This drumsample pack features 90 one shot samples recorded with care, and should find a nice place in your music production, whatever genre it is, as long as you enjoy deep and pure electronic sounds.
The Synsonix pack is available to purchase for $2.90 USD.
The KPR77 library features the sounds of the Korg KPR-77, a very electronic sounding analog drum machine from the early 80s with a true signature sound.
The hats are the most acid ones we have heard, the clap is unique, the overall sound is gritty and corrosive, perfect for acid, electro pop, house or adding some original flavor and spice in any of your production. However, programming the original hardware device is a total nightmare, so you might be pleased to enjoy the sampled sounds without having to deal with the pain to program it.

But that's not all: In this Waveshaper drumsamples pack, you will find "dry" kits, as well as more processed samples (with stronger kick sounds, good use of solid state mixer, vintage eq, analogue distortion and tube compressors), so you get both the pure, raw sound of the drum machine, and also some processed samples, always true to the original, but ready to use in your productions.
The KPR77 pack includes 200+ one-shot samples (12 kits), and is available to purchase for $3.90 USD.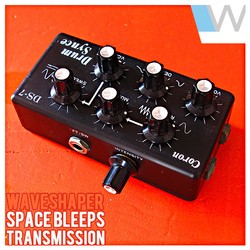 Waveshaper's Space Bleep Transmissions includes 540+ samples from the Coron DS-7, a tiny device used by disco drummers in the 70s to add some electronic sounds to their kits.
While it excels at creating those well-known disco toms and lazer sounds, it is far more capable than that and can produce deep sub-basses, weird space FX, pure electronic tones and futuristic electro blips.

This big drumsample pack should be perfect for space disco songs, retronica, electropop, idm, analogue SFX or any production where you want to add some retrosonic flavour or unheard sounds.
It features more than 540 one-shot samples, all true to the DS-7's own sound, but recorded in various ways: As well as a comprehensive "dry" kit (catching the pure, raw sound of the unit), you will find processed samples using a sought-after analogue chorus, an old distortion stompbox, octaver pedal, solid state mixer and a tube compressor. So you get the best of both world : the "true sound" of the device and production-ready samples.
The Space Bleep Transmissions pack costs $4.90 USD.
All three sample packs also have 16bit/44.1kHz mono collections available as a free download.
More information: Waveshaper