W.A. Production has released a sound pack titled What About: Vocals for ImPerfect, a collection of 50 presets for the ImPerfect synthesizer instrument.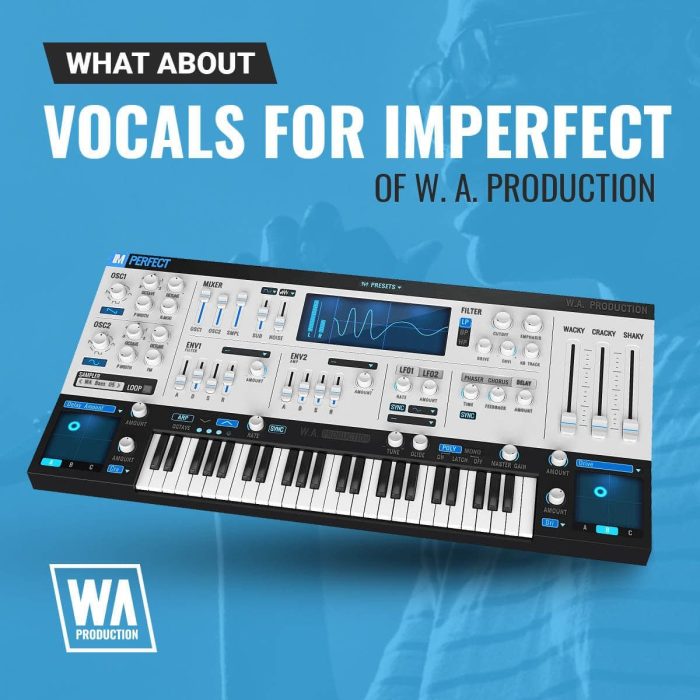 That's right, with these 50 additional preset sounds added to the ImPerfect library you can add wacky, cracky and shaky to develop a sound that will put the vocal presence into your mix or allow you to design an atmosphere for any occasion. This isn't your typical ooohh's and aahhhh's vocal pack. With so many different ways to edit and manipulate the number of combinations that you can use you can end up with an endless array of possibilities that are nearly ImPossible to duplicate.

Remember, due to the modulation options offered with ImPerfect, what you start out with may not always be what you end up with. That makes this vocal preset pack, from W. A. Production for ImPerfect, extremely diverse and applicable for use in any EDM genre. Don't you think that its time to let your imagination sore and your creativity run wild? Add texture, add personality, add flavour to your next mix. Pick up What About: Vocals for ImPerfect from W. A. Production.
Vocals for ImPerfect is on sale for the intro price of $5 USD from W.A. Production and distributor Plugin Boutique (regular $9.90 USD).
The offer expires March 31st, 2020.