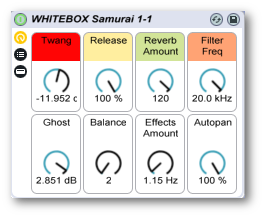 Whitebox Synth Makers has introduced the Samurai Pack, a free sound library for Ableton Live 9.
WHITEBOX Samurai PACK. Whiteboxsynthmakers' Nick Dwyer has made a layered instrument on Ableton Live 9 Intro to demonstrate the versatility of the relatively simple devices available in the basic set.

This is a combination of Buzzheng and Light and Dark teamed with midi effect Insen Scale to deliver a vary variable faux oriental sound pad.
The download is available at no cost.
Visit Whitebox Synth Makers for more information.