Wusik has announced the release of Wusik Station 8, a synthesizer instrument for Windows and Mac.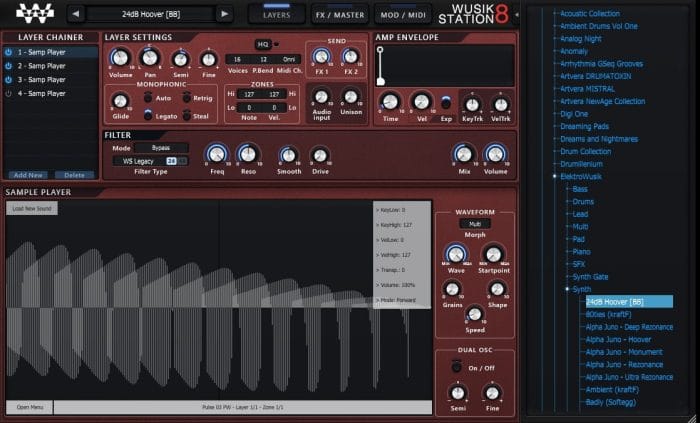 Wusik Station 8 was re-coded from the ground-up, using code from Wusik 4000 & 8000, resulting in modern cross-platform native code.

Wusik Station is now Windows and Mac OS X compatible; VST/AU 32- and 64-bit versions are supplied.
Changes in Wusik Station 8
Cross platform: Windows and Mac OS X (possibly Linux too, later this year): This alone may not seem much, but it is, most of the work will be recoding the project so it can use modern cross-platform code instead of the current code.
Multi Line Graphical Envelopes (*).
New Filter Types, including a custom user filter script type (*).
"Unlimited" number of parallel filters per layer.
"Unlimited" number of chained effects per layer insert and per master sends (2 in total).
"Unlimited" number of Mod Envelopes and LFOs.
Better Wavesequencing style (*).
Audio Looper layer, which samples any incoming audio signal and let you play like an instrument (*).
Multi Layer with the option to select the type of layer:

Sample Player.
Wave Sequencer.
Drawable OSC.
Super OSC.
3 OSC (with Noise generator).
Audio Looper.
Groove Sequencer (not included yet).

Per Layer ARP and also a Master ARP.
16 Steps Polyphonic Sequencer per layer, to be used as a Modulation Source on the Mod Matrix.
Per Layer Key Switching and Sticky Keys options.
Per Layer Modulation Matrix.
New Interface and Skin.
(*) borrowed from Wusik 4000 & 8000 code.
Wusik Station 8 is currently available for $64.95 USD. Upgrades start at $34.95 USD.
More information: Wusik