Wusik has released Wusik Station V9, a new version of the hybrid vector and wavesequencer sampler/synth workstation instrument for Windows and Mac.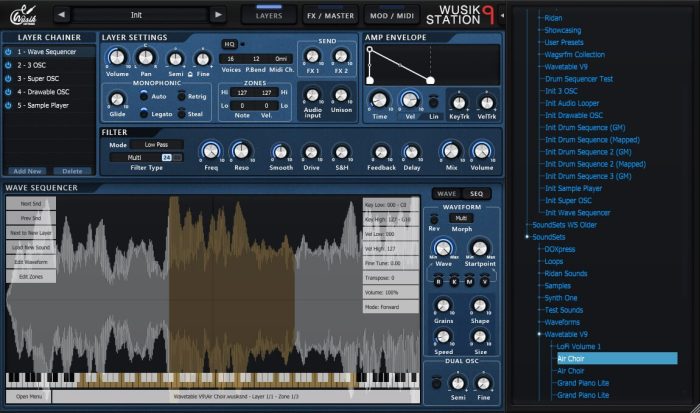 Wusik Station V9 is Finally Out! Thanks to the help of users I created a new single-file installer with better compression on all sound files. It also includes all new sounds in a single go. Be sure to check that out.

I will soon release an update for V8 too that will be able to read those compressed files so you can keep V8 and V9 side-by-side (for older projects sake).
Changes in Wusik Station 9
New Wave Sequencer Mode: Drums. 15 Tracks and 4 x 16 Steps Variations.
New Wave Sequencer Mode: Notes. For monophonic note sequencing, with 4 x 16 Steps Variations.
New GUI Zoom option, for larger screens.
New Compressed sound format. The whole library was also compressed and takes less HD space now.
New Wave Sequencer Patterns option.
New Single-File Installer for Full Version and Updates.
New Sample Mapper Editor.
Added Copy and Paste to All Envelopes.
MIDI Output is now possible from both Drum and Keys Mode (Wave Sequencer).
New Modulation options for the Modulation Matrix: Auto Note, Logic and Gate. Plus, the Mod. Sequencers now can be added multiple times.
Added an Oscilloscope to the Master Page.
Added visual feedback of the Modulations in the Modulation Matrix.
Added to the Sample Player interface direct buttons to enable/disable the following: Round Robin to Layer, Layer Key Switching, Mod.Wheel to Layer and Velocity to Sample Start.
Wusik Station V9 is available for Windows and Mac (VST/VST3/AU) as part of the Wusik 2018 Bundle, priced at $49.95 USD. The bundle also includes Wusik 8000 and Wusik 8008 (preorder).
Users of Wusik Station V8 can upgrade to the new version for $19.95 USD, or upgrade to the bundle for $29.95 USD.
More information: Wusik