Xenobioz has released version 0.85 of Lynx, a free synthesizer instrument plug-in for Windows.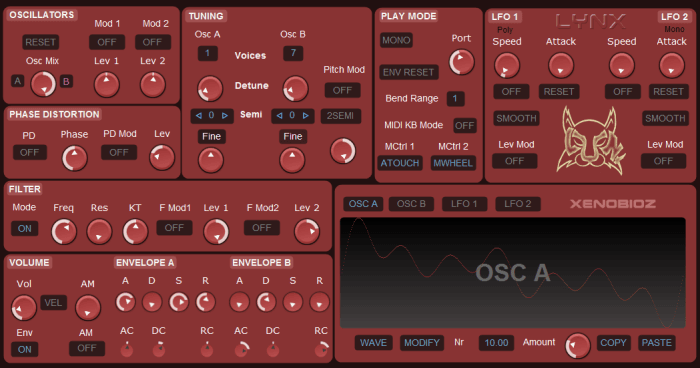 Lynx is a synthesizer with 2 Unison oscillators with 7 voices each and 14 combined. It features a powerful wave editor that lets you draw and modify all the waveforms for both Oscillators and LFOs.

Lynx is made by custom modules coded in C++ especially for Lynx. Therefore it uses a lot less CPU than Most of the older xenobioz VSTs. The waveform editor is also far superior to all of the earlier xenobioz VSTs and is both easier to use and more powerful.
Changes in Lynx v0.85
Changed the Sines Generator, to produce more useful waves.
Added Sines Copy (Nr) generator which uses copied waveform for decay of harmonics.
Curve Amount can be set now on "Exponential/Logarithmic Down/Up" in Wave Editor.
Added AM Copy Modifier. Same as Multiply but the Copied wave is made positive.
Negative Filter Key-tracking.
Some minor fixes.
Lynx is a free download for Windows (VST).