Xhun Audio has released version 1.8 of IronAxe, a physical modeling simulation of the electric guitar.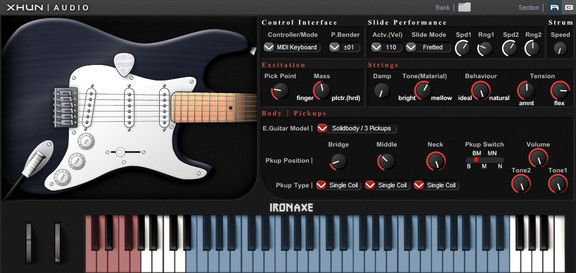 This is one of the most complete IronAxe updates ever, because it brings a widely improved Excitation Engine, Pickups Modeling, Pitch Bending Engine and many fixes that registered users asked for.
Changes in IronAxe v1.8
A massive low-level code replacement: IronAxe is now 95% ready for cross-platform compatibility.
The Excitation Engine has been updated to version 2.0: this brings greater realism over the strings vibration process and to the whole simulation accuracy. Excitator materials are also more accurately represented, everything accessible through the same user-friendly GUI.
In the Excitation Engine it is now possible to adjust the Finger Release noise amount (the interaction of a finger leaving a vibrating sting).
The Pickups Modeling (for Single Coil, Humbucker, Steel Plate) has been seriously improved, featuring even more accurate frequency responses, clipping, and simulating pickups interactions with the Electric Guitars' Tone knobs.
The Pitch Bending Engine has been updated to version 2.0: now it is possible to simulate both a "Whammy Bar" or a "Finger Slide" action, with an extended range that goes from +-1 up to +-7 semitones. For all the details, check out the user manual.
The Pitch Bending "note retrig issue" has been fixed.
The Pitch Bending is now properly linked on the GUI side.
The Damping Detune Compensation Engine has been updated to version 2.0.
The Distortion and Overdrive Stomps have been slightly improved.
The 3-band Equalizer Rack Effect has been improved.
All Factory Presets/Banks have been updated.
All the additional "KeyPerformer-ready" presets have been embedded into the main soundbank. They are labeled with the suffix "[KP]". The "[KP]" labeled presets simply represent a specific electric guitar's setting (selecting the proper plectrum material, picking position, etc. – and the same is for the FX, Stomps, Cabinets, etc.) and they are especially designed to be a quick way to perform strums, power chords, palm-muted chords and chunks, etc. through the KeyPerformer Engine. Just load a "[KP]" labeled preset, select "KeyPerformer" as Input Mode and start performing true-to-life phrases without the hassle of setting each parameter manually.
The product installer has also been updated.
IronAxe for Windows (VST) is available for purchase for 99 EUR.
More information: Xhun Audio / IronAxe