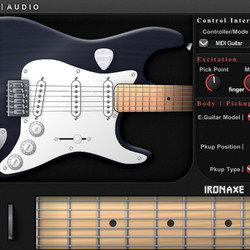 Xhun Audio has released version 1.6.1 of its IronAxe virtual electric guitar instrument for Windows and Mac, introducing an important fix for the String Router Engine, and featuring an updated KeyStrummer engine, improving the Power/Bar Chords strum authenticity.
Changes in IronAxe v1.6.1
String Router Engine 2.0: previous version (1.6) had a notes-allocation issue with multi instances of IronAxe. This has been fixed, it now works properly in single and multi instances environments.
KeyStrummer Mode: 'Power/Bar Chords' and 'Power/Bar Chords Muted' engine has been updated, now it features the performing of 2-strings Power Chords (Blue Keys, lower octave) and 3-strings Power Chords (Blue Keys, upper octave), for a more authentic and natural strumming experience.
Partial low level code replacement on the DSP side.
IronAxe for Windows (VST) is available to purchase for 99 EUR.
More information: Xhun Audio / IronAxe