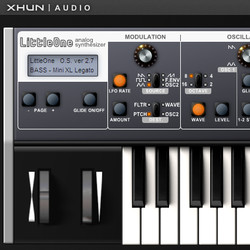 Xhun Audio has released an update of its LittleOne synthesizer instrument for Windows.
LittleOne version 2.7 features an improved Host Syncing Engine and a totally re-written Oscillators Morphing Engine, among with some fixes on the GUI and DSP side.

Also the Big Steps Soundbank has been updated and optimized for a full compatibility with LittleOne 2.7.
Changes in LittleOne v2.7
The Oscillators Morphing Engine has been totally re-written, with far better accuracy and CPU-saving also at fast/deep modulations.
The syncing engine between the Step Sequencer and the Trancegate modules has been improved (now 100% time-accurate, sharing the same sync signals from the Host).
The main Host connection for time syncing has been improved (used in the Step Sequencer, Trancegate and Delay modules), and the list of compatible Host for full timing accuracy has been extended.
Partial re-design and improvements on the GUI side.
Minor fixes on the DSP signal-path side.
Big Steps soundbank has been optimized for LittleOne version 2.7.
Further low-level, cross-platform code revisions.
LittleOne for Windows (VST) is available to purchase for 45 EUR. The update is free of charge for all registered users.
More information: Xhun Audio / LittleOne