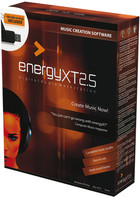 XT Software has released version 2.5.4 beta of energyXT, a music production software for Windows, Mac & Linux.
With energyXT you will be creating tracks faster than with any other music application out there. Launch energyXT and you are ready to make tracks in a split second.
Changes in energyXT2.5.4 beta
'first note recording' bug fixed.
GUI was missing on several plugins on mac, now fixed.
Popup drum editor.
Vertical zoom in popup editor and in-track editor.
Drag rex file into tracks panel to create drum track, drum part and load the samples.
Option to always show the modular tab.
Fixed drawing bug with audio region/selection.
You can now use image for selected track and part.
You can now skin the selection region in the editors.
Adding new controller lane's in the popup editor didnt get selected in view by default, now fixed.
Convert audio parts to mono.
Added recording latency option in audio setup.
Will now attempt to recover a project when encountering errors when loading (caused by a plugin or simular).
Freeze drum track could crash if using long samples, now fixed.
VST version will now sync to host in modular view (without sequencer comp).
Enable auto update on linux could crash, now fixed.
Duplicater track.
MIDI In comp now has its own 'editor' window with midi keyboard and option for quantize and velocity sens.
MIDI part quantize length, slice and reverse.
MIDI part legato and fixed length.
MIDI part delete doubles.
Sampler and dum samplers loop markers could get stuck outside the view, now fixed.
Added public/private option for Soundcloud add-on, and will now also show the URL of the upload file on success.
energyXT for Windows, Mac and Linux is available to purchase for 59 EUR.
More information: energyXT