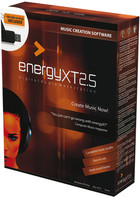 XT Software has released a new beta for version 2.5.3 of energyXT, a lightweight cross-platform music production application.
energyXT2.5 gives you everything you need to create music on your PC or laptop, whether you're running Windows, Mac OS X, or Linux. Designed from the ground up with songwriters and musicians in mind, energyXT let's you record, edit and mix your music with powerful, yet easy to use DAW features. Creating music on your computer has never been easier, faster and more fun.
Changes in energyXT v2.5.3 beta
Drum track insert effect wet level was not saved with project, now fixed.
Added option to show/hide the Modular tab in the Windows menu.
Fixed bug with setting loop and position to new Timesig changes.
Fixed memory leak in undo buffer.
Deleted VST's in undo buffer are now suspended.
Pads in drum sampler are now skinnable.
Fixed timesig bug, numbers overlapping.
Loops & clips section in browser will now show mp3 files.
Set loop region with ctrl + left/right click.
Added recent projects to file menu.
Snap to initial pos ignored when snap is off and moving events.
energyXT is available to purchase for Windows, Mac and Linux, priced at 49 EUR.
More information: XT Software