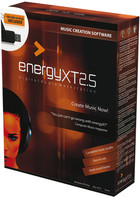 XT Software has released beta version 2.6 of energyXT, a lightweight music production software for Windows, Mac OS X and Linux.
With energyXT you will be creating tracks faster than with any other music application out there. Launch energyXT and you are ready to make tracks in a split second.
Changes in energyXT v2.6 beta
Added support for fractional tempo.
Added shortcuts for vertical zoom (ctrl +/-).
You can now drag & drop tracks in and out of folders.
Fixed a bug with duplicate drum track and drum events not showing.
Fixed a bug with MIDI mapping/control.
Added 'Disk full' warning.
Shift select part didn't work when in-rack editing, now fixed.
Mixer strip in sequencer now has a channel selector for multi-out instruments.
Added half/double tempo to MIDI process menu.
Fixed bug with MIDI values out of range (when drag insert cc events etc).
Changing patches in the VST editor window does not update the object bar, now fixed.
Crash when sample is made much shorter in "stretch" mode, now fixed.
energyXT for Windows, Mac and Linux is available to purchase for 59 EUR.
More information: energyXT